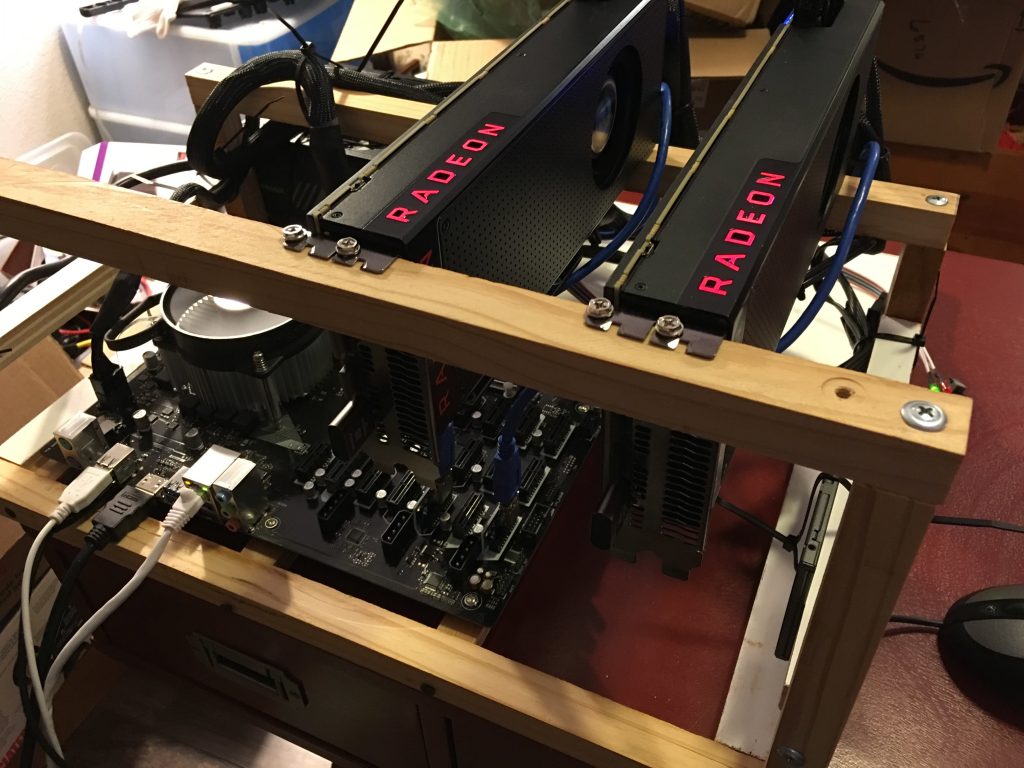 After many years being a bystander on the world of cyptocurrency I've finally taken the plunge into making a starter rig to mine some coins of my own. Getting "in" to cyptocurrency doesn't have to be as technical as building a computer though. I found the easiest way to just buy coins with cash is on Coinbase however be careful of their fees adding as they add up fast. If you want to buy $50 in coins you'd be better off buying $49 in coins because the fees are respectively $2.99 and $1.99 for the purchase. One additional word of warning is that your coins in Coinbase aren't completely yours since you don't have a wallet all your own. However day trading on the cryptocurrency markets is too rich for me and not my speed so I wanted to mine my own coins. It feels late in the game to start mining. I thought about this several times working up to my purchase and I figured that if cryptocurrency succeeds then it still is in its infancy. Sure I would have loved to start 5 years ago but in 5 years I would have been thinking the same thing about now.
There are dozens of cryptocurrencies around and I had a few reasons for choosing Monero (XMR) over others to invest my new rigs power into. The first reason is that the algorithm is designed to focus on CPU and GPU mining while being resistant to ASIC products. This means that it will stay accessible to a more diverse group of people instead of being centralized by the few who can afford buying ASIC tools. My secondary reason for choosing Monero is the privacy features of the coin being the default scenario. Unlike some other coins you aren't able to see which addresses or wallets contain the most Monero coins. So with a budget of about $1500 I set out to build a good and expandable starter rig that could run day and night to mine coins for me.
It had been a while since I'd built a computer since I've been buying laptops for several years now so I didn't actually buy everything needed in the first go. Our shopping list starts with the basics. We'll need a power supply, motherboard, CPU, a CPU fan, some kind of hard drive, RAM and of course the graphics cards which are the real work horses of the system. What I had left out of my system was the on off switch, HDMI dummy plugs, screw standoffs and screws to mount the motherboard and a watt meter to see power usage at the wall. My shopping list in the end looked like this.
I ended up paying just under $1600 when everything was done but I'll be able to add 14 more video cards before having to buy another rig.
Video Cards
The video cards I picked were the new AMD Radeon Vega 56 which just recently came out. They have proved to be quite a jump in effectiveness in mining Monero over other similarly priced cards. As of the time I bought them from Ebay they were $20 cheaper than on the main Newegg site. Additionally someone already did all the hard work of tweaking the cards and put out a definitive guide to Monero and Vega.
Power Supply
I was admittedly influenced in my choice of power supply by the Tom's Hardware guide on Picking The Right Power Supply. Since power is a big part of how the rig will work I went with a Corsair HX1000 power supply with 80 Plus Platinum certification for efficiency. I can add a few more video cards before I max out this beefy PSU.
Motherboard
The motherboard I picked was bleeding edge at this time with an advertised support for 19 GPUs sometime in the future. Right now it isn't able to do more than 8 cards of AMD and 8 cards of NVIDIA at the same time due to limitations in Windows but those limits are planned to be overcome by the beginning of next year. The power supply I picked is again overkill for the 2 video cards I picked but I had an eye on expansion. While I'm talking about power supplies and expansion this motherboard supports a total of 3 power supplies! An important feature for the motherboard is that is also supports an integrated GPU when available.
Memory (RAM)
The RAM was a compromise. Plenty of guides out there will tell you that you don't even need 8GB of RAM and you can get away with 4GB! I just felt wrong installing that little RAM into a new machine. It was lucky that I did install 8GB because one of the features of the AMD Vega 56 cards I bought is called the High-bandwidth Cache Controller or HBCC which allocates more RAM to the video cards allowing for faster mining! If I had to do it again I'd probably max out the system with 32GB at 2x16GB of RAM.
Hard Drive (SSD)
The Kingston SSD was also difficult to buy at only 120GB in size. However a mining rig doesn't need a lot of extra hard drive space and this was the right balance of size and price. You can get away with smaller but I wouldn't want to.
CPU
The CPU itself is also mostly superfluous so I found, to my great surprise, an extremely cheap Intel Kaby Lake CPU that would be perfect for this system and even used less power at just 51W. The big requirement here was that it had an integrated GPU so we can mine on the rig and still be able to navigate the system.
CPU Fan
The stock fan has never been good. I picked one nearly at random with good reviews.
HDMI dummy plugs
The dummy plugs fool the video cards into thinking they have an active monitor they are plugged into and keep the GPU activated. It also helps keep settings between restarts.
Extras
You need to have an on/off switch and the screw standoffs are also essential for mounting your motherboard somewhere. The watt meter truly is an extra since it doesn't improve my hashes per second.
Case
Finally I used my own scrap wood to create the rig open air case. I loosely followed this post on how to make a wood mining rig. It isn't bad for my first case but I'm already looking forward to doing better on my next build.
Benchmarks
So how does my new rig perform? When in top shape it is putting out 3700 H/s using xmr-stak-amd and just a hair under 400W at the wall.
HASHRATE REPORT
| ID | 10s | 60s | 15m | ID | 10s | 60s | 15m |
| 0 | 1023.0 | 1011.8 | 1013.5 | 1 | 847.9 | 852.4 | 848.9 |
| 2 | 1001.5 | 989.8 | 1002.4 | 3 | 854.1 | 832.9 | 840.0 |
-----------------------------------------------------
Totals: 3726.4 3686.9 3704.8 H/s
Highest: 4292.3 H/s
Donations
If you liked this post or want to practice sending Monero to random wallets please send tips to 47eJPaqzZ53XSwfbCFeFyxb5WrVaGkPX5Vd3s5Ts4CkkUAjQmbndGPtcpGHZPvFNgseKPJAZ6Vkg97g48tghmLH51LtGJ5P or if you feel like sending Bitcoin then use this address 1DgeqPfBHREoDWxwUbuvyja9ghHN47n8YA.
Unboxing pictures are always fun so I took a bunch while unpacking my goodies.